The Memorial Museum of M.A. Yegorov RSBIC "The Smolensk State Museum- Preserve"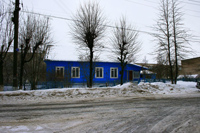 Phone: (48141) 4-21-02

Address: 216760, Smolensk region, Rudnya Town,the settlement of Molkombinat, 15

Working hours:*

Internet:
www.russianmuseums.info/M727 - official web page
The Smolensk State Museum-Preserve - W1508, official web site www.smolensk-museum.ru/



E-Mail:




billboard, events and excursions




Description:


The House-Museum of the Hero of the Soviet Union Mikhail Alekseyevich Yegorov was opened on May, 5, 1990. Our great fellow countrymen, who hoisted the Victorybanner over the Reichstag together with M.V. Kantaria, spent the last years of his life (1969 - 1975) here.

The lifetime interior of a genuineis carefully preserved here. The exposition occupies four rooms of the house. The materials of the museum tell us about the path of life of ourfellow countrymen, about his production activities, his public work and about his work with the youth



Museum's services:
museum shop

Next to the museum there are:
hotels and restaurants




for museum professionals


Administrative phone:
(48141) 4-21-02

Administrative address:
214000, Smolensk City, Communisticheskaya Road, 4

Foundation and opening day:
founded: 1989г.
opened: 05.05.1990

Organisation status:
State Russia

Organization form:
non-for-profit

Organisation type:
culture for society

Classification:
Memorial

Squares:
permament show rooms 126,1м2

Employee number:
2 (curators: 1)

Average visitors per year:
3015


Collections volume:
211



Rare collections (unique items):
The collection of textiles and clothes - 15 things
The collection of documents - 15 things
The collection of crockery - 65 things
The collection of furniture - 20 things
The collection of decorative- and-applied art and ethnography - 17 things





Web sites and CD-disks:
above

Copyright (c) 1996-2020 The Memorial Museum of M.A. Yegorov RSBIC "The Smolensk State Museum- Preserve"
Copyright (c) 1996-2022 Russian Museums .info