The Memorial Estate Museum of A.T. Tvardovskiy RSBIC "The Smolensk State Museum- Preserve"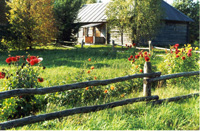 Phone: (48149) 5-24-20

Address: 216600, Smolensk region, Pocninkovskiy District, Seltso Settlement, Zagorye Farm Stead

Location: by bus "Smolensk - Pochinok"

Working hours:*

Internet:
www.russianmuseums.info/M1965 - official web page
The Smolensk State Museum-Preserve - W1508, official web site www.smolensk-museum.ru/



E-Mail:




billboard, events and excursions




Description:


In June of 1988 by the recollection of the brothers of the poet, Ivan Trifonovich and Konstantin Trifonovich, Zagorye which hadtold on poetical lines of A.T. Tvardovskiy more than once, was reconstructed. Everything hereis like it was in the years of Alexander Trifonovich: the house, the shed, the bath-house as "the first cabinet" of the young rural correspondent, the smithy hymned in his poem "For broad Dal" ("Distance by distance"), the well, and the orchard - "five apple-trees- fivevarieties of them." Here he was born, grew up, came into force together with his "native land", which he left in his age of 18 for the full of disquiet and difficulties worldly sailing, for the Poetry.

There are no authentic exhibits at the museum, because the family of the poet, his parents, brothers and sisters, was subjected to repression and exiled into the Northern Urals





Museum's building(s):


It's a house with a cattle-yard added to it, and also a hay-loft, a bath-house and a smithy





Museum foundator: Tvardovskiy I.T. (1914-2003), Tvardovskiy K.T. (1908-2002)



Museum's services:
museum shop




for museum professionals


Administrative phone:
(48149) 5-24-20

Administrative address:
214000, Smolensk City, Communisticheskaya Road, 4

Foundation and opening day:
founded: 1986г.
opened: 19.06.1988

Organisation status:
State Russia

Organization form:
non-for-profit

Organisation type:
culture for society

Classification:
Memorial

Squares:
permament show rooms 56,5м2
museum's parks 2,2га

Employee number:
5 (curators: 1)

Average visitors per year:
1950




Web sites and CD-disks:
above

Copyright (c) 1996-2020 The Memorial Estate Museum of A.T. Tvardovskiy RSBIC "The Smolensk State Museum- Preserve"
Copyright (c) 1996-2020 Russian Museums .info