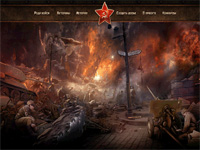 Top 50 web sites
rating by visitors' votes


The Portal "Live Íistory" invites you to make a virtual travel to the past and to learn the interesting facts about East Prussian operation of the Soviet armies in 1945. On this site veterans of The Great Patriotic War have told about fights for East Prussia and its capital Kenigsberg, about war psychology, about a hard front life and about the post-war life. You can see interview, videoclips, audiofragments of memoirs, the unique photo albums. Also it is possible to find here statistical and contemporary records, historical articles about East Prussian operation.
The Portal "Live Íistory" has been created by employees of the Kaliningrad regional museum of history and art on means of the grant received within the limits of III competition of social and cultural projects of the company "LUKOIL-KMN"