Museum-country seat "Land Dolgorukovo"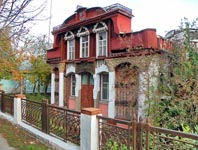 Phone: (47468) 2-1769

Address: 399510, Lipetsk region,

Working hours:* Warning:
preodered group visits only

Internet:
www.russianmuseums.info/M904 - official web page

E-Mail:




billboard, events and excursions




Description:


The Memorial estate "Dolgorukovo country" (originally the Ethnography one) was founded in 1967, October, 14th., as a place of intevest with the aims to tudy the Dolgorukovo Local historical events, its cultural treasures... The museum adsorbed the mainest scientific and maral principals of the local territories and events demonstrating thein historical value. They are: the Zhemchuzhnikovs' country - seat "Pavlovka", which is a birtplace of Kozma Prutkov's muse, "a cradle" of the composer Vasilenko "Tsaryevka", the Bikhanov's nurseries are the foundations of the Russian gardening... Dolgorukovo and Bratovshchina were the private land-territories of the Prince Dolgorukey... During the Great Patriotic War of 1941-1945 a part of Dolgorukovo was occupied by the fascist occupants. In December 1941 th Soviet troops' counter offensive was started from this very place...

The scientific efforts oа the Memorial-estate "Dolgorukovo country" are aimed to the moral revival of a man, his Motherland...



Museum's services:
equipped for people with disabilities

Museum has :
theartre

Next to the museum there are:
hotels and restaurants




for museum professionals


Administrative phone:
(47468) 2-1769



Foundation and opening day:
founded: 14.10.1967

Organisation status:
Municipal

Organization form:
non-for-profit

Organisation type:
culture for society

Classification:
Architect and monuments,Historical,Regional museum,Literature

Squares:
permament show rooms 484м2
temporary exhibitions 250м2
museum's store 30,1м2
museum's parks 0,25га

Employee number:
5 (curators: 3)

Average visitors per year:
более 4000


Specific departments:
archive, science library

Collections volume:
более 6000, rare collection's items: около 3000



Web sites and CD-disks:
above

Copyright (c) 1996-2007 Museum-country seat "Land Dolgorukovo"
Copyright (c) 1996-2018 Russian Museums .info