The Botanic Garden "Apothecaries' Garden"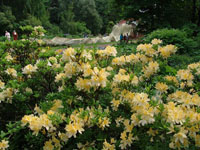 Phone: (495) 680-5880, 680-7222

Address: 129090, Moscow, 26 Prospect Mira

Working hours:*

Internet:
www.russianmuseums.info/M496 - official web page
Botanical Garden M.V.Lomonosov Moscow State University - W1457, official web site botsad.msu.ru

Botanical Garden M.V. Lomonosov Moscow State University - W1420
hortus.ru



E-Mail:




billboard, events and excursions




Description:


The botanic garden of Moscow State University is the oldest Russian establishment of its kind that still exists on its original site, and was founded by Peter the Great in 1706 as a Apothecary where medicinal plants were grown and studied by students of the Medical School. It was transformed into a botanic garden proper in 1805. The park has approximately 200 types of shrubs and trees, some of which are 300 years old, and the collection in includes a willow that is the oldest tree in central Moscow and a larch planted by Peter the Great himself. The Garden's orangeries contain a large collection of tropical and subtropical plants, many of which were donated to the garden at the beginning of the 19th Century



Museum's services:
museum's caffe

Next to the museum there are:
restaurant(s) or caffes




for museum professionals


Administrative phone:
(495) 680-67-65, Fax: (495) 680-5880



Foundation and opening day:
founded: 1706г.

Organisation status:
Federal

Organization form:
non-for-profit

Organisation type:
culture for society, scientific, educational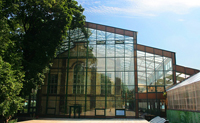 Squares:
permament show rooms 1000м2
museum's store 100м2
museum's parks 6,5га

Employee number:
25 (curators: 3)

Average visitors per year:
не менее 10000


Specific departments:
archive, science library



Web sites and CD-disks:
above

Copyright (c) 1996-2020 The Botanic Garden "Apothecaries' Garden"
Copyright (c) 1996-2022 Russian Museums .info