Museum "Post Department in Lopasnya"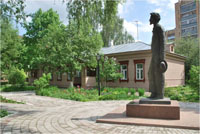 Phone: (496) 722-40-79

Address: 142301, Moscow region,

Working hours:*

Internet:
www.russianmuseums.info/M466 - official web page
Literary and Memorial Museum-Reserve of A.P. Chekhov "Melikhovo" - W1355, official web site www.chekhov-melikhovo.com



E-Mail:




billboard, events and excursions




Description:


Museum of Letters is located in the building where on the 2-nd of January in 1896 with the active participation of A.Chekhov was opened Post Office. After about 9 months at the request of local residents Telegraph started working here. A.P.Chekhov was present at the opening of the telegraph (going to St.Peterburg for the rehearsal of the play «Seagull»).

Memorial Hall is a postal-telegraph office of the 19-th century. Atmosphere of the old post is restored with historical authenticity.

The museum was opened on the 15-th of July in 1987. 3-meter monument to Chekhov by sculptor M.K.Anikushin was installed on the territory of the museum



Next to the museum there are:
hotels and restaurants




for museum professionals


Administrative phone:
(496) 722-40-79, Fax: (496) 722-40-79



Foundation and opening day:
opened: 15.07.1987

Organisation status:
State Russia

Organization form:
non-for-profit

Organisation type:
culture for society, scientific

Classification:
Historical,Literature,Memorial

Squares:
permament show rooms 69,1ì2
temporary exhibitions 39,4ì2
museum's store 11,7ì2
museum's parks 0,2ãà

Employee number:
4 (curators: 2)

Average visitors per year:
2965


Collections volume:
476, rare collection's items: 322



Web sites and CD-disks:
above

Copyright (c) 1996-2021 Museum "Post Department in Lopasnya"
Copyright (c) 1996-2023 Russian Museums .info