Reserve Museum "Dmitrovsky Kremlin"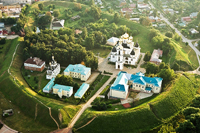 Phone: (496) 227-40-07, (495) 993-74-13 (экс. бюро)

Address: 141800, Moscow region,

Working hours:*

Internet:
www.russianmuseums.info/M448 - official web page
Reserve Museum "Dmitrovsky Kremlin" - W575, official web site dmmuseum.ru/



E-Mail: ,




billboard, events and excursions




Description:


Dmitrov is one of the most ancient towns of Moscow Region. It was founded by prince Yury Dolgoruky in 1154 to mark the bith of son Dmitry. Dmitrov was one of the fortress town of Vladimir Souzdal Land. A number of monuments in Dmitrov reminds of terrible days of the Great Patriotic War. The monument "To the Defenders of Moscow" has raised on Permilovo Heights in 1966. It is the oldest museum located in Dmitrov since 1918. It is the nature-reserve museum "Dmitrov Kremlin" now, it consists of three departments: the department of History and Art, which is famous for the unique collections of works decorative and applied art of the XVI-XIX centures; Historical and Military Museum where you can see the Battle Diorama, it is the only one in Moscow Region; the museum and Exhibition Complex "Russian World". The local artists and craftsmen show their works in it



Museum's services:
museum shop, public library

Next to the museum there are:
hotels and restaurants




for museum professionals


Administrative phone:
(496) 227-40-07



Foundation and opening day:
founded: 13.08.1918

Organisation status:
Municipal

Organization form:
non-for-profit

Organisation type:
culture for society, scientific

Classification:
Architect and monuments,Historical,Regional museum,Museum preserve,Painting art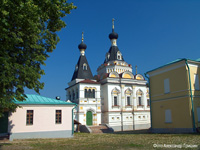 Squares:
permament show rooms 1204м2
temporary exhibitions 147м2
museum's store 697м2
museum's parks 6га

Employee number:
58 (curators: 21)

Average visitors per year:
23000


Specific departments:
archive, science library

Collections volume:
35000, rare collection's items: 25000



Web sites and CD-disks:
above

Copyright (c) 1996-2023 Reserve Museum "Dmitrovsky Kremlin"
Copyright (c) 1996-2023 Russian Museums .info