Tula Regional Public Culture institution "Tula regional Exotarium"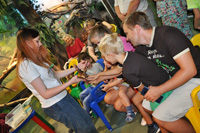 Phone: спр. (4872) 47-5392, экс. бюро (4872) 47-5392

Address: 300002, Tula region,

Working hours:*

Internet:
www.russianmuseums.info/M439 - official web page
Tula Regional Exotarium - W907, official web site www.tulazoo.ru/



E-Mail:




billboard, events and excursions




Description:


Exotarium was founded in 1987. Presently it houses the world's largest collection of snakes. Exotarium has acquired a world-wide repute and recognition due to breeding rarest species of animals, many of which are still little-studied. Each year we breed many species that are already threatened with extinction in their natural surroundings, thus trying to preserve them. Exotarium stuff contributes a lot to studying reptiles and amphibians all over the world, but, first of all, in the countries of South-Eastern Asia.Exotarium is one of Tula's most visited museums. It constantly exhibits over 70 different species of the animal kingdom - regal python, the largest snake in the world; legendary anacondas; large typical tortoises; giant monitor lizard; the mysterious chameleon; the African crocodile; Mary, the talkative parrot, toucan - one of the most interesting and beautiful birds in the world; funny monkeys; curious raccoons; the relative of Ricci-Ticci-Tavi - the striped mongoose; the charming eared hedgehog, and many others



Museum's services:
museum shop

Next to the museum there are:
hotels and restaurants




for museum professionals


Administrative phone:
(4872) 34-4033, Fax: (4872) 34-4033



Foundation and opening day:
founded: 28.09.1987

Organisation status:
State Russia

Organization form:
non-for-profit

Organisation type:
culture for society, scientific, educational

Classification:
Natural history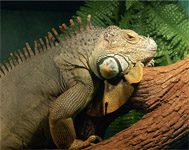 Squares:
permament show rooms 250м2
temporary exhibitions 3м2
museum's store 250м2
museum's parks 0,05га

Employee number:
40 (curators: 5)

Average visitors per year:
93275


Specific departments:
archive, science library, experts team

Collections volume:
6023



Web sites and CD-disks:
above

Copyright (c) 1996-2017 Tula Regional Public Culture institution "Tula regional Exotarium"
Copyright (c) 1996-2018 Russian Museums .info