Gallery of Арт - interior "Palette"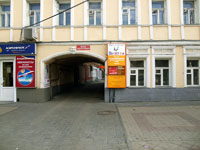 Phone: (4912) 25-2914

Address: 390000, Ryazan region,

Working hours:*

Internet:
www.russianmuseums.info/M3168 - official web page

E-Mail:




billboard, events and excursions




Description:


Gallery of Art - interior ""Palette", first not commercial gallery in Ryazan, which does not raise a payment from the artists for realization by them of personal and group exhibitions in territory of gallery. The basic accent(stress) of exhibition activity this encouragement of the creative initiative in art, granting to the artist of an opportunity to show sincere - subjective vision of the world. The work with children will be carried out(spent): training to their skills of fine art, realization of Foremen - classes



Next to the museum there are:
hotels and restaurants




for museum professionals


Administrative phone:
(4912) 25-2914



Foundation and opening day:
opened: 05.08.2009

Organisation status:
Private

Organization form:
non-for-profit

Organisation type:
culture for society, educational

Classification:
Historical,Painting art

Squares:
permament show rooms 22м2

Employee number:
3 (curators: 1)

Specific departments:
science library



Web sites and CD-disks:
above

Copyright (c) 1996-2019 Gallery of Арт - interior "Palette"
Copyright (c) 1996-2020 Russian Museums .info