Culture municipal authority "Glory Memorial"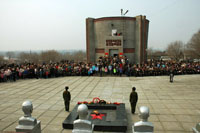 Phone: (38595) 2-11-02

Address: 656106, Altai area,

Working hours:* Warning:
preodered group visits only

Internet:
www.russianmuseums.info/M3156 - official web page

E-Mail:




billboard, events and excursions




Description:


The Memorial complex was built in the memory of the soldiers of our parts fallen in the year of the Great Patriotic War. On the Ceremonial meeting on the 9 of May 1985 was fired the Eternal Flame opened the alley of Heroes. On the supporting walls there are the memorial blocks with the names those who fell in the Warmade of metal.

In our museum there are more than two thousand documents and expositions. There are photos and letters from the front, notices and thankful, letters, view of arms and war subjects from the places of battles. The main visitors are young auditory, children, we spend the lessons of memory, meetings with veterans. Here come newlyweds, heard instructions for the man called up for military service. Workers of the Memorial do searching work to find the fates of the fallen soldiers from our parts



Next to the museum there are:
restaurant(s) or caffes




for museum professionals


Administrative phone:
(38595) 2-11-02



Foundation and opening day:
opened: 09.05.1985

Organisation status:
Municipal

Organization form:
non-for-profit

Organisation type:
culture for society, scientific, educational

Classification:
Historical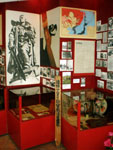 Squares:
permament show rooms 240,2ì2
museum's store 10ì2
museum's parks 0,3ãà

Employee number:
7 (curators: 2)

Average visitors per year:
3000


Specific departments:
archive, experts team

Collections volume:
3511, rare collection's items: 2313



Web sites and CD-disks:
above

Copyright (c) 1996-2012 Culture municipal authority "Glory Memorial"
Copyright (c) 1996-2023 Russian Museums .info