International Craft Guild of Masters. Museum of microminiature art "Russian Levsha"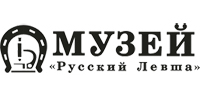 Phone: (812) 312 88 97, 312 88 09

Address: Saint-Petersburg,

Working hours:*

Internet:
www.russianmuseums.info/M3113 - official web page
- W1411, official web site chudomuzey.ru/



E-Mail: ;




billboard, events and excursions




Description:


In 2006 the first museum of microminiature art in Russia "Russian Levsha" was founded by the International Craft Guild of Masters in Saint-Petersburg. Levsha is a hero of a Russian folktale. The story is about a peasant named Levsha who is such a craftsman that he is able to shoe a dancing flea.

The all exhibits of the unique collection are smaller than 1 mm. To see the art objects on the microscopic scale is possible only by means of magnifier embedded in display glass cases. The author Vladimir Aniskin (Novosibirsk) uses different trades of art and craft, such as blacksmithing, foundry, manufacturing glass, handling birch bark, jeweler's art. It is possible to see in collection of museum the classic of the genre of microminiature: the shoed flea, the camels in an eye of a needle, the text of 2 typing pages on a poppy seed, the rose on a cut of horsehair etc.



Next to the museum there are:
hotels and restaurants




for museum professionals


Administrative phone:
(812) 312 88 09



Foundation and opening day:
opened: 23.03.2006

Organisation status:
Private

Organization form:
parthnership

Organisation type:
culture for society, educational

Classification:
Historical,Painting art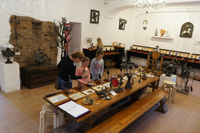 Squares:
permament show rooms 84м2
temporary exhibitions 80м2
museum's store 6м2

Employee number:
10

Average visitors per year:
более 50000


Specific departments:
experts team, restoration dep. - реставрация художественного металла (члены МГМ)

Collections volume:
575



Web sites and CD-disks:
above

Copyright (c) 1996-2020 International Craft Guild of Masters. Museum of microminiature art "Russian Levsha"
Copyright (c) 1996-2023 Russian Museums .info