Museum "Iceage"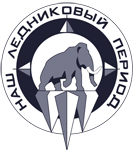 Phone: +7(916) 105-28-23 - запись на экскурсию

Address: Moscow,

Working hours:*

Internet:
www.russianmuseums.info/M3066 - official web page
Museum "Iceage" - W1270, official web site iceagemuseum.ru/



E-Mail:




billboard, events and excursions




Description:


Our Museum was opened to the public in November 2004, but had long been a dream of Fyodor Shidlovskiy, the museum's founder. An engineer by background, in the late 1980's Fyodor worked for a local airline in northeastern Yakutia, in the small old town of Srednekolymsk on the Kolyma River. He loved that severe and wild country, and was fond of hunting and traveling along the local rivers and through taiga forest. Fyodor knew that this region was rich with fossils, and had heard about the famous Beryozovka Mammoth carcass found not far from Srednekolymsk. Once, in a steep bluff at the Beryozovka River, he found a large limb bone and a tusk of mammoth. That event changed Shidlovskiy's life. Collecting fossils of extinct Pleistocene animals became his hobby, and then a favorite business.



Museum's services:
museum shop

Next to the museum there are:
restaurant(s) or caffes




for museum professionals


Administrative phone:
+7(916) 105-28-23



Foundation and opening day:
opened: 26.10.2004

Organisation status:
Private

Organization form:
commercial

Organisation type:
culture for society, scientific

Classification:
Natural history,Historical,Painting art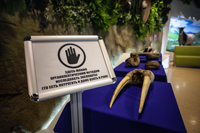 Specific departments:
archive, experts team, restoration dep.

Collections volume:
более 300



Web sites and CD-disks:
above

Copyright (c) 1996-2020 Museum "Iceage"
Copyright (c) 1996-2020 Russian Museums .info