Memorial estate "Rozhdestveno"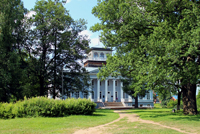 Phone: (81371) 621-58

Address: 188356, Leningrad region, Gatchinsky raion, w. Rozhdestveno

Working hours:*

Internet:
www.russianmuseums.info/M262 - official web page
Memorial estate "Rozhdestveno" - W662, official web site www.rozhdestvenomuseum.ru/

- W983
lenoblmus.ru/



E-Mail:




billboard, events and excursions




Description:


Our museum represents a noble estate built at the end of the 18th century. The mansion is appeared to be a unique sample of wooden classicism. The history of the estate is tightly connected with the name of the great writer Vladimir Nabokov whose ancestors owned this estate. The mansion is surrounded with a magnificent park with a romantic linden alley that leads to the Holy Source and the Red Cave



Next to the museum there are:
hotels and restaurants




for museum professionals


Administrative phone:
(81371) 621-58



Foundation and opening day:
opened: 06.11.1957

Organisation status:
State Russia

Organization form:
non-for-profit

Organisation type:
culture for society

Classification:
Architect and monuments,Historical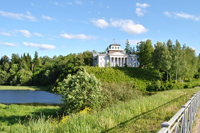 Squares:
museum's parks 16га

Employee number:
20 (curators: 2)

Specific departments:
archive, science library



Web sites and CD-disks:
above

Copyright (c) 1996-2021 Memorial estate "Rozhdestveno"
Copyright (c) 1996-2023 Russian Museums .info