The museum of A.I.Pokrishkin



Phone: (3832) 41-8558

Address: 630108, Novosibirsk region,

Working hours:* Warning:
preodered visits only

Internet:
www.russianmuseums.info/M2579 - official web page

E-Mail:




billboard, events and excursions

Description:
The organization is in Novosibirsk at the Vocational school 2 named by A.I.Pokrishkin studie therh for two years and has got a profession on fitter. The organization has there halls (192 m2), but soon ten halls will be built there (mone than 1000m2). For there years there were 9842 (nine thousand eigut hundred and forty two) in the museum visitors.
for museum professionals


Administrative phone:
(3832) 41-8544



Organisation status:
Society org.

Organization form:
non-for-profit

Organisation type:
culture for society

Classification:
Historical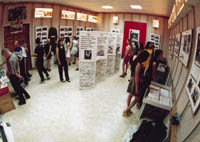 Squares:
permament show rooms 192ì2

Employee number:
2 (curators: 1)

Average visitors per year:
3312


Specific departments:
archive, science library

Collections volume:
6000, rare collection's items: 253



Web sites and CD-disks:
above

Copyright (c) 1996-2003 The museum of A.I.Pokrishkin
Copyright (c) 1996-2023 Russian Museums .info