The Museum of military glory "Parade of 7 November 1941 in the city of Kuibyshev"

Phone: (846) 932-30-98, 8 (937) 994-96-98

Address: 443086, Samara region,

Working hours:* Warning:
preodered visits only

Internet:
www.russianmuseums.info/M2554 - official web page

E-Mail:




billboard, events and excursions




Description:


The opening of the Museum of military glory of the military parade November 7, 1941 in Kuibyshev, was held at the Lyceum "Technical" November 3, 2011. The creation of the Museum was preceded by hard work of the search group created by the teacher of technology Lesnikova D.V.

The exhibition presents samples of weapons and equipment 1941-1945, helmets, bags, pouches for ammunition, a shovel, a knife, a ruler artillery, holster, helmet, banknotes of the Soviet and German production 1941-1945, bread coupons, photos of parade, the layout square of Kuibyshev, etc. Among its sections - "Kuibyshev - spare capital", "the Parade of 7 November 1941 in Moscow and Kuibyshev", "Infantry and cavalry of the red Army, armor, artillery, vehicles, aircraft on Parade", "Kuibyshev diplomatic", etc.



Museum's services:
museum shop, museum's caffe

Next to the museum there are:
hotels and restaurants




for museum professionals


Administrative phone:
(846) 333-28-38, Fax: (846) 953-20-71



Foundation and opening day:
opened: 03.11.2011

Organisation status:
Ministry

Organization form:
non-for-profit

Organisation type:
culture for society, educational

Classification:
Historical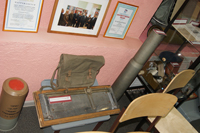 Squares:
permament show rooms 61,6м2

Employee number:
3

Average visitors per year:
2000


Specific departments:
archive, science library

Collections volume:
260



Web sites and CD-disks:
above

Copyright (c) 1996-2015 The Museum of military glory "Parade of 7 November 1941 in the city of Kuibyshev"
Copyright (c) 1996-2020 Russian Museums .info