The State museum-preserve "Gatchina"

Phone: спр. (812) 958-0366, экс.бюро (81371) 934-92

Address: 188300, Leningrad region, Gatchina, Krasnoarmejsky pr., 1

Working hours:*

Internet:
www.russianmuseums.info/M242 - official web page
Museum-Preserve "Gatchina" - W1335, official web site gatchinapalace.ru/



E-Mail:




billboard, events and excursions




Description:


Gatchina, situated 45 kilometers from Saint Petersburg, is included in the 'brilliant' ring of the historic parks around the former imperial capital. The Gatchina palace was built by A. Rinaldi in 1766 - 1781 and was reconstructed twice afterwards. The palace has always looked unusual to Russian spectators and in the XVIII century people affirmed with some exaggeration that it was built "in the English castle style". The building has ten towers and an underground passage. The Interiors of the palace are refined and majestic. The palace is surrounded with wonderful and extensive parks. Some nice pavilions can be visited during summer time



Museum's services:
museum shop, museum's caffe

Next to the museum there are:
hotels and restaurants




for museum professionals


Administrative phone:
(81371) 215-09, Fax: (81371) 933-72



Foundation and opening day:
founded: 19.05.1918
opened: 08.05.1985

Organisation status:
State Russia

Organization form:
non-for-profit

Organisation type:
culture for society, scientific

Classification:
Architect and monuments,Historical,Museum preserve,Painting art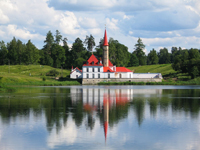 Squares:
permament show rooms 4051,2м2
museum's store 1318,4м2
museum's parks 150га

Employee number:
246 (curators: 12)

Average visitors per year:
178 000


Specific departments:
archive, science library, restoration dep. (живопись, металл)

Collections volume:
14795, rare collection's items: 14150



Rare collections (unique items):
Furniture Fund - 468 storage units
Porcelain Fund - 1987 storage units
Weapon fund - 1140 storage units
Fund of fabrics - 597 storage units
Bronze fund - 360 storage units
Fund of the rare book - 4175 storage units
Fund of drawings - 1234 storage units
Fund of manuscripts - 474 storage units
Fund of engravings and lithograph - 575 storage units
Fund of water colours and drawings - 501 storage units
Painting fund - 476 storage units
Fund of harnesses - 19 storage units
Fund of a household collection - 691 storage units
Fund of precious metals - 11 storage units
Numismatics fund - 1090 storage units
Sculpture fund - 277 storage units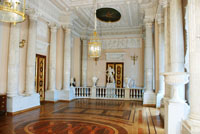 Web sites and CD-disks:
above

Copyright (c) 1996-2021 The State museum-preserve "Gatchina"
Copyright (c) 1996-2023 Russian Museums .info