The Gata Suleimanov Museum



Address: 450008, Bashkortostan Republic,

Working hours:*

Internet:
www.russianmuseums.info/M2286 - official web page

E-Mail:




billboard, events and excursions

Description:
The Gata Suleimanov Museum was founded in 1992 in honour of the 18th anniversary of our famous countryman, kurgi-player Gata Suleimanov. He was the honoured worker of culture of the Russian Federation, laureat of Salavat Yulaev Prize. The museum is situated in the centre of village Turkmenovo.
for museum professionals




Organisation status:
State Russia

Organization form:
non-for-profit

Organisation type:
culture for society

Classification:
Historical,Musical,Memorial,Painting art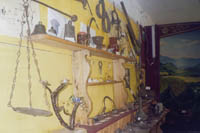 Squares:
permament show rooms 106ì2
museum's store 6ì2

Employee number:
1

Average visitors per year:
520


Collections volume:
1030, rare collection's items: 632



Web sites and CD-disks:
above

Copyright (c) 1996-2003 The Gata Suleimanov Museum
Copyright (c) 1996-2023 Russian Museums .info