Museum "The Vyatka Folk Art Handicrafts"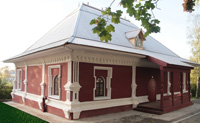 Phone: (8332) 54-49-18

Address: 610000, Kirovsk region,

Working hours:*

Internet:
www.russianmuseums.info/M2158 - official web page
- W722, official web site www.muzey43.ru/



E-Mail:




billboard, events and excursions




Description:


The building of the Museum was constructed as a pub at the beginning of the 18th century. The Museum was opened here after the reconstruction in 1977. It is one of the oldest and the most beautiful buildings in the city now.

The exposition of the Museum describes the history and modern development of the Vyatka art handicrafts. The unique folk art, processing of the birch, trees' growthes is presented here. As a decorative material they were first mentioned only in the Vyatka province in the 19th century. The wooden watch made without a single grain of metal, caskets with secrets and music, desk-sets, dressing-cases and other articles by our outstanding craftsmen can be admired at the Museum. Dymkovo toy and hand-made laces from the Kukarka settlement are the other interesting phenomenon in the Russian applied art. Old toys manufactured by A.Mezrina, E.Koshkina, E.Penkina and others are worth seeing. One can find a lot of lacy table-clothes, table-napkins, collars here



Next to the museum there are:
hotels and restaurants




for museum professionals


Administrative phone:
(8332) 54-49-18



Foundation and opening day:
opened: 08.11.1977

Organisation status:
State Russia

Organization form:
non-for-profit

Organisation type:
culture for society

Classification:
Historical,Regional museum,Painting art

Squares:
permament show rooms 110м2
temporary exhibitions 55м2

Employee number:
6 (curators: 2)



Web sites and CD-disks:
above

Copyright (c) 1996-2021 Museum "The Vyatka Folk Art Handicrafts"
Copyright (c) 1996-2023 Russian Museums .info