Museum Exhibition Centre "Diorama"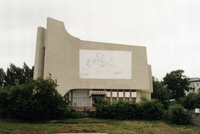 Phone: (8332) 54-04-55

Address: 610017, Kirovsk region,

Working hours:*

Internet:
www.russianmuseums.info/M2157 - official web page
Kirov Museum of Regional Studies - W722, official web site www.muzey43.ru/



E-Mail: ,




billboard, events and excursions




Description:


The Museum Exhibition Centre "Diorama" is a unique museum object based on art panorama "Vyatka, 1917". Art and historical expositions are regularly organized in "Diorama". Various forms of work with visitors are used. In 1996 the Swedish Culture Centre was formed on base of "Diorama"



Museum's services:
museum shop

Next to the museum there are:
hotels and restaurants




for museum professionals


Administrative phone:
(8332) 54-04-55



Foundation and opening day:
opened: 23.12.1977

Organisation status:
State Russia

Organization form:
non-for-profit

Organisation type:
culture for society

Classification:
Historical,Regional museum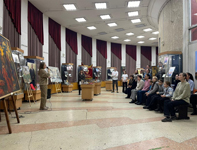 Squares:
permament show rooms 722,4м2
museum's parks 0,5га

Employee number:
21 (curators: 4)



Web sites and CD-disks:
above

Copyright (c) 1996-2015 Museum Exhibition Centre "Diorama"
Copyright (c) 1996-2019 Russian Museums .info