Museum "Vyatka Kunstkamera"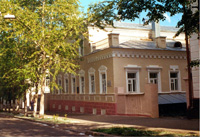 Address: 610000, Kirovsk region,

Working hours:* Temporary closed for visits.

Internet:
www.russianmuseums.info/M2155 - official web page
- W722, official web site www.muzey43.ru/



E-Mail:




billboard, events and excursions




Description:


The Exhibition Centre "Vyatka Kunstkamera" is situated in a typical town house of a tradesman at the turn of the 20th century. It is the former lodging of Vyatka tradesman A.M.Senilov. In five exhibition halls there are collections of everyday life things at the turn of the 20th century. They are clocks, porcelain and delfware, furniture, clothes, art things of metal. In two hals the nature exposition is temporary places. The removable exhibitions on museum themes are organized in exhibition halls too



Museum's services:
museum shop, lecture hall

Next to the museum there are:
hotels and restaurants




for museum professionals


Administrative phone:
(8332) 38-3738



Foundation and opening day:
opened: 01.04.1992

Organisation status:
State Russia

Organization form:
non-for-profit

Organisation type:
culture for society

Classification:
Historical,Regional museum

Squares:
permament show rooms 170м2
temporary exhibitions 49м2



Web sites and CD-disks:
above

Copyright (c) 1996-2021 Museum "Vyatka Kunstkamera"
Copyright (c) 1996-2023 Russian Museums .info