Museum of Minerals, Ores, precious stones "A surprising essence of stone"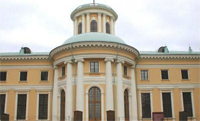 Phone: (87872) 5-1385

Address: 369210, Karachaevo-Cherkessia Republic,

Working hours:* Warning:
preodered visits only

Internet:
www.russianmuseums.info/M2153 - official web page

E-Mail:




billboard, events and excursions




Description:


Mineralogical collection of the museum "A surprising essence of stones'contains about 1,500 main exhibits and 2,000 minor ones. It represents assemblage of rare, even unique samples from the world of minerals, ores and semi-precious stones. It has been collected at first for demonstration of rarity and unusual properties of them, but later was added to by samples that characterize the stones world more wide and full. The collection exhibits are druses and concretions, rough stones samples and polished sections, core of prospecting wells, artistic handicraft from stones. Rather wide are represented the Ural Jaspers, different kinds of mctamorphic and other rocks with the "landscape" and "portrait" natural drawings, almost all known colour stones, some gemstones, all kinds ofcakite crystals. Among latter we have the unique prismatic pseudohexagonal ones. The samples of these crystals which are keeping in the geological museums of Moscow, St. Petersburgh, Kiev, Irkutsk, Cherkessk were transfered to the possession from this collection. All minerals, ores and host rocks ofUrup copper stratiform deposit (North Caucasus) are represented here.

The exhibits are collected from almost all over our country and from another localities of Europe, Asia, Africa, Antarctic, from Atlantic ocean bottom.

There is a library of museum; its topic is the colour, semi-precious and gem-stones, another spheres of geological science. Stones were processed in mini-workshop located at the museum.

Museum has a personal enterprise status, it is out of state financing and has no sponsors



Museum's services:
museum shop, public library

Next to the museum there are:
hotels and restaurants




for museum professionals


Administrative phone:
(87872) 5-1385



Foundation and opening day:
opened: 12.12.1993

Organisation status:
Private

Organization form:
non-for-profit

Organisation type:
culture for society, scientific

Classification:
Natural history,Historical,Painting art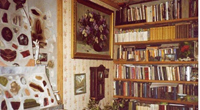 Squares:
permament show rooms 50м2
temporary exhibitions 25м2
museum's store 10м2

Employee number:
2 (curators: 1)

Specific departments:
science library

Collections volume:
более 3000, rare collection's items: 1500



Web sites and CD-disks:
above

Copyright (c) 1996-2019 Museum of Minerals, Ores, precious stones "A surprising essence of stone"
Copyright (c) 1996-2022 Russian Museums .info