Artly-expocenter "The Summer residence of Bashenina"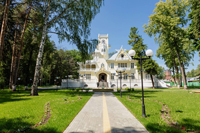 Phone: (34147) 3-40-03

Address: 427960, Udmurt Republic,

Working hours:*

Internet:
www.russianmuseums.info/M2139 - official web page
Sarapul Museum Reserve - W1573, official web site museumsarapul.ru/



E-Mail:




billboard, events and excursions




Description:


Artly-expocenter a museum is in a building of a country summer residence of a mayor - Pavel Andreevicha Bashenina's merchant-industrialist (1868 - 1910). Pictures of Russian and European masters are presented To expositions XIX - the beginnings of the XX-th centuries, art furniture, ware and other household subjects сарапульского merchant classes, and also materials about life and activity of the Honourable citizen of Sarapul P.A. Bashenina and his family.

Continuing traditions of Russian culture, musical, theatrical and art drawing rooms, Christmas fur-trees are spent. Under sounds of an old grand piano and trembling of fire in a fireplace romantic drawing rooms for enamoured and wedding solemn ceremonies are spent. Art and exhibitions istoriko-of regional studies are annually shown, master classes, open-airs of artists of Prikamye are arranged.

The winner of competition "the Changing museum" 2008 the Project "Here lives in the changing world a modernist style (a city in search of style)" Welcome to our Museum!



Museum's services:
museum shop, lecture hall, equipped for people with disabilities

Next to the museum there are:
hotels and restaurants




for museum professionals


Administrative phone:
(34147) 4-11-68, Fax: (34147) 4-09-59



Foundation and opening day:
opened: 1995г.

Organisation status:
Municipal

Organization form:
non-for-profit

Organisation type:
culture for society, scientific

Classification:
Architect and monuments,Natural history,Historical,Memorial,Painting art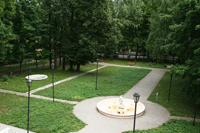 Squares:
permament show rooms 293м2
temporary exhibitions 212м2
museum's parks 2,2га

Employee number:
20 (curators: 2)

Average visitors per year:
20000




Web sites and CD-disks:
above

Copyright (c) 1996-2021 Artly-expocenter "The Summer residence of Bashenina"
Copyright (c) 1996-2023 Russian Museums .info