State Exhibition Hall "Kovcheg"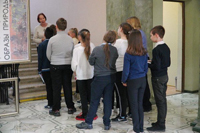 Phone: (499) 977-0044

Address: 127434, Moscow,

Working hours:*

Internet:
www.russianmuseums.info/M2098 - official web page
State Exhibition Hall "Kovcheg" - W1693 www.gvz-kovcheg.ru/



E-Mail: ,




billboard, events and excursions




Description:


The State Exhibition Hall "Kovcheg" was founded in 1988. For these years we realized around 300 exhibitions and art projects. Some of them were put into practice in cooperation with the largest Russian art museums - the Pushkin State Museum of Fine Arts and the State Tretyakov Gallery (both in Moscow). For long period of time "Kovcheg" has also cooperated with other museums in Moscow and in various regions of Russia. "Kovcheg" is primarily interested in the personality, in the artist's individuality and in what makes him stand out from amidst his surroundings, even if he is at times associated with one group of likeminded people or another



Museum's services:
equipped for people with disabilities

Next to the museum there are:
restaurant(s) or caffes




for museum professionals


Administrative phone:
(499) 977-0044, Fax: (499) 977-0088



Foundation and opening day:
opened: 06.09.1988

Organisation status:
State Russia

Organization form:
non-for-profit

Organisation type:
culture for society

Classification:
Historical,Painting art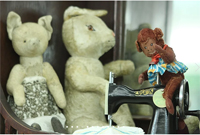 Squares:
permament show rooms 200м2
museum's store 30м2

Employee number:
7 (curators: 3)

Average visitors per year:
4060




Web sites and CD-disks:
above

Copyright (c) 1996-2017 State Exhibition Hall "Kovcheg"
Copyright (c) 1996-2018 Russian Museums .info