Museum "Nature of the Sea and its Protection"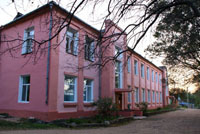 Phone: (4232) 31-1393

Address: 690901, Primorski area,

Working hours:*

Internet:
www.russianmuseums.info/M2060 - official web page
Museum "Nature of the Sea and its Protection" - W1234, official web site dvmarine.ru/muzej/



E-Mail:




billboard, events and excursions




Description:


The Museum is a presentation of amazing diversity of marine life and its threats. The Museum exhibition demonstrates relationships of Human and Ocean, mechanisms of pollution influence on animate nature and ways of sea protection in the expample of Russian Far-Eastern seas. You will know about the life of animals of Peter the Great Bay, and about the functioning of a coral reef ecosystem in the three dimenshional models, and about marine farming. In the aquarium room you may take some live marine animals by hands from the pool. During excursion toure to Popov Island you will learn about the geological history of small island and see many plants if island's flora, littoral animals, as well as the site ancient people



Museum's services:
lecture hall, theatre

Museum has :
theartre

Next to the museum there are:
hotels and restaurants




for museum professionals


Administrative phone:
(4232) 31-1393, Fax: (4232) 31-0900



Foundation and opening day:
founded: 03.01.1977
opened: 10.11.1977

Organisation status:
Ministry

Organization form:
non-for-profit

Organisation type:
culture for society, educational

Classification:
Natural history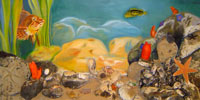 Squares:
permament show rooms 300м2
museum's store 60м2
museum's parks 260га

Employee number:
4

Average visitors per year:
2320


Specific departments:
restoration dep. (таксидермическая, аквариальная)

Collections volume:
1610, rare collection's items: 1523



Web sites and CD-disks:
above

Copyright (c) 1996-2017 Museum "Nature of the Sea and its Protection"
Copyright (c) 1996-2019 Russian Museums .info