The Municipal Museum "Anna Akhmatova - Silvery Age"



Phone: (812) 785-0442

Address: 198152, Saint-Petersburg,

Working hours:*

Internet:
www.russianmuseums.info/M189 - official web page
The Municipal Museum "Anna Akhmatova - Silvery Age" - W1373, official web site akhmatova-museum.ru/



E-Mail:




billboard, events and excursions

Description:
This is the first one in the country and for a long time the only one of its kind, dedicated to the memory of the great Russian poetess Anna Akhmatova. The Museum display is implemented in chronological succession and owns in exposition 6 rooms ("Tsarskoe", "Slepnevo", "Gumilev", "Petersburg 1", "Petersburg 2", "Poem Without Hero"). The Museum possesses the unique exhibits - portraits as the only one of its kind both of Akhmatova and Gumilev, parity furniture, porcelaine, sculpture, books with Anna Akhmatova's autographes and books from her private collection
for museum professionals


Administrative phone:
(812) 785-0442, Fax: (812) 785-0442



Foundation and opening day:
founded: 23.04.1987

Organisation status:
Municipal

Organization form:
non-for-profit

Organisation type:
culture for society, scientific

Classification:
Literature,Memorial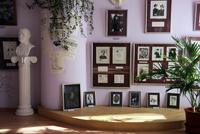 Squares:
permament show rooms 603,4м2
temporary exhibitions 73м2
museum's store 112,4м2

Employee number:
23 (curators: 15)

Average visitors per year:
23301


Specific departments:
archive, science library

Collections volume:
23060, rare collection's items: 9029



Web sites and CD-disks:
above

Copyright (c) 1996-2015 The Municipal Museum "Anna Akhmatova - Silvery Age"
Copyright (c) 1996-2017 Russian Museums .info