Museum "Tula Kremlin"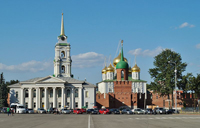 Phone: (4872) 31-25-38, 36-27-45

Address: 300000, Tula region, Kremlin, Tula Town, Russia

Working hours:*

Internet:
www.russianmuseums.info/M1858 - official web page
- W431, official web site museum-tula.ru/



E-Mail:




billboard, events and excursions




Description:


The Tula Kremlin is a monument of defense architecture. Being build old the beginning century it was used for the defense from nomads. Schematicalle it presents a rechangle with the total lingth of it_walls 1 km and the area of about 6 hectares. The Tula Kremlin has 9 towers, four of them with gates. There are two cathedrals on the territory of Tula Kremlin Uspenskiy_(18 centery) and Bogojavlensky (19 centery) chatedrals



Museum's services:
museum shop

Next to the museum there are:
hotels and restaurants




for museum professionals


Administrative phone:
(4872) 31-24-58, Fax: (4872) 36-27-45



Organisation status:
State Russia

Organization form:
non-for-profit

Organisation type:
culture for society, scientific

Classification:
Architect and monuments,Historical,Museum preserve

Squares:
permament show rooms 414м2
temporary exhibitions 287м2
museum's store 10,8м2
museum's parks 6га

Employee number:
21 (curators: 6)

Average visitors per year:
160000


Specific departments:
science library

Collections volume:
3027, rare collection's items: 1154



Web sites and CD-disks:
above

Copyright (c) 1996-2020 Museum "Tula Kremlin"
Copyright (c) 1996-2023 Russian Museums .info