Museum "Masks and Figures of the World"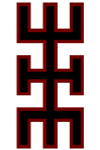 Phone: +7 965 202 38 38

Address: Moscow,

Working hours:* Warning:
preodered visits only

Internet:
www.russianmuseums.info/M1674 - official web page
Museum "Masks and Figures of the World" - W1164, official web site mif-mira.ru/



E-Mail: ,




billboard, events and excursions




Description:


Private museum "Masks and figures of the World" opened May 17, 2015. The museum has an extensive collection of items handmade from wood, metal and stone. The main areas are the mask of peace and wooden figures of Russian masters (goblins, water, frights, Baba Yaga, etc).

The main objective of the museum is the educational activity on the basis of lectures, which operates the museum. Lectures on various topics, which guests can learn a lot about the African, Asian, American masks hear different theories of "evil" in Russian fairy tales, learn about jewelry-amulets from different corners of the Earth, carried out on our territory, and the sites of friends and partners. Museum (the myth of the world) provides the ability to not just see "exhibit behind glass," and experience the magic that subsistence similar products. You can literally touch the mask that keeps the "spirit" of several generations



Museum's services:
museum shop, lecture hall

Museum has :
theartre, folk group

Next to the museum there are:
hotels and restaurants




for museum professionals


Administrative phone:
+7 965 202 38 38



Foundation and opening day:
opened: 17.05.2015

Organisation status:
Private

Organization form:
commercial

Organisation type:
culture for society

Classification:
Historical,Painting art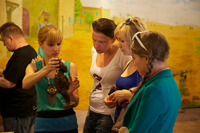 Squares:
permament show rooms 25ì2
museum's store 200ì2

Employee number:
2 (curators: 1)

Collections volume:
2000



Web sites and CD-disks:
above

Copyright (c) 1996-2021 Museum "Masks and Figures of the World"
Copyright (c) 1996-2023 Russian Museums .info