Museum "Vologda political exile"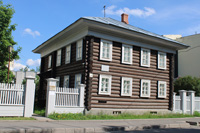 Phone: (8172) 76-6950

Address: 160000, Vologda region,

Working hours:*

Internet:
www.russianmuseums.info/M1599 - official web page
The Vologda State Museum-Preserve of History, Architecture and Decorative Arts - W617, official web site www.vologdamuseum.ru/



E-Mail:




billboard, events and excursions




Description:


The museum "Vologda political exile" is situated in a log two-story house. Its exposition shows the history of Vologda exile that began in the 15th century. At first political and military enemies of the Russian Tsars - Ivan III and Ivan the Terrible lived in exile in the Vologda Region. The tradition was continued by the Romanovs.

The number of exiles grew up very quickly at the time of reforms. Only in Vologda at the beginning of 1903 there lived 60 men under the police supervision, among them there were V. Lunacharsky, B. Savinkov, A. Bogdanov, N. Berdyaev. The second wave of exiles came to Vologda after the first Russian Revolution in 1907-1910. Among exiles of that period there were future leaders of the Soviet State - V. Molotov, V. Podbelsky, M. Ulianova. The museum exposition also tells about Iosif Stalin who lived in the house while his exile in the Vologda Region



Next to the museum there are:
hotels and restaurants




for museum professionals


Administrative phone:
(8172) 72-2283, Fax: (8172) 72-2283



Foundation and opening day:
opened: 2006г.

Organisation status:
State Russia

Organization form:
non-for-profit

Organisation type:
culture for society

Classification:
Historical,Regional museum,Memorial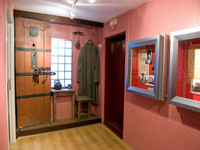 Squares:
permament show rooms 74,9м2

Employee number:
4 (curators: 1)

Average visitors per year:
1400




Web sites and CD-disks:
above

Copyright (c) 1996-2015 Museum "Vologda political exile"
Copyright (c) 1996-2018 Russian Museums .info