The Submarine D-2 "Narodovolets"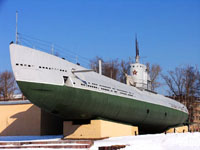 Phone: (812) 356-5277

Address: 199106, Saint-Petersburg, Shkipersky protok, 10

Working hours:*

Internet:
www.russianmuseums.info/M155 - official web page
Central Naval Museum - W126, official web site navalmuseum.ru/



E-Mail:




billboard, events and excursions




Description:


The submarine D-2 Narodovolets is one of the first submarines built by Soviets. In 1934 and 1935 D-2 undertook a voyage to Novaya Zemlya (The New Land). In 1936, her travel through the Matochkin Shar (Matochkin Strait) to the Karsk Sea took place for the first time in history. August 17, 1941, the submarine was commissioned into the Baltic Navy. The exhibition dedicated to the history of D-2 and actions by Soviet submariners in the war time was prepared by the personnel of the Central Naval Museum. The compartments of the D-2 submarine and her exterior were reconstructed to make them look the same way they were in the years of the Great Patriotic War. On July 8, 1989 the submarine was set up in Leningrad as a naval and shipbuilding memorial. On September, 2, 1994, the memorial complex "Submarine D-2 Narodovolets" was inaugurated as a branch of the Central Naval Museum



Museum's services:
museum shop, lecture hall

Next to the museum there are:
restaurant(s) or caffes




for museum professionals


Administrative phone:
(812) 356-5266



Foundation and opening day:
opened: 02.09.1994

Organisation status:
Federal

Organization form:
non-for-profit

Organisation type:
culture for society

Classification:
Historical,Science and technics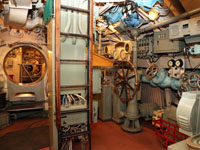 Squares:
permament show rooms 600м2
museum's parks 0,02га

Employee number:
8 (curators: 3)

Average visitors per year:
38000


Collections volume:
299, rare collection's items: 238



Web sites and CD-disks:
above

Copyright (c) 1996-2021 The Submarine D-2 "Narodovolets"
Copyright (c) 1996-2023 Russian Museums .info