The Verkhoyansky Regional Museum of Local Lore "The Pole of cold"

Phone: (41165) 26-512

Address: 678530, Yakutia Republic,

Working hours:*

Internet:
www.russianmuseums.info/M1277 - official web page

E-Mail:




billboard, events and excursions




Description:


The museum "Cold pole" was opened in 1990. It is situated in Verkhoyansk - the northern hemisphere cold pole. The natural history is widely shown: extinct mammals, modern flora and fauna, unique and rare species of plants and animals.

The museum has a rich exposition on history, ethnography and culture of the people occupying the extreme north of Yakutia. In funds and museum expositions there are interesting collections of icons, coins and treasury notes, badges, bone products, Russian samovars, works of the Yakut smiths



Museum's services:
public library, Internet access

Museum has :
folk group

Next to the museum there are:
hotel(s)




for museum professionals


Administrative phone:
(41165) 26-512, Fax: (41165) 26-512



Foundation and opening day:
opened: 01.11.1990

Organisation status:
Municipal

Organization form:
non-for-profit

Organisation type:
culture for society, scientific, educational

Classification:
Historical,Regional museum,Painting art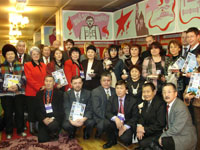 Squares:
permament show rooms 589,1ì2
museum's store 31,4ì2
museum's parks 0,2ãà

Employee number:
14 (curators: 1)

Average visitors per year:
2120


Specific departments:
archive

Collections volume:
14292, rare collection's items: 9335



Web sites and CD-disks:
above

Copyright (c) 1996-2014 The Verkhoyansky Regional Museum of Local Lore "The Pole of cold"
Copyright (c) 1996-2018 Russian Museums .info