The State Museum and Reserve "Oranienbaum"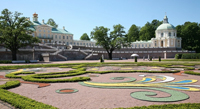 Phone: (812) 422-3753, 423-1637

Address: 189510, Leningrad region, 48, Palace Pr., Lomonosov town (Oranienbaum)

Working hours:*

Internet:
www.russianmuseums.info/M120 - official web page

E-Mail:




billboard, events and excursions

Description:
The palace-and-park ensemble on the southern shore of the Gulf of Finland opposite the town-fortress Kronshtadt. Constructed to the design of architects D.Fontana and G.Schedel. In 1743 Oranienbaum became the summer residence of the future emperor Peter III. A fortress ensemble with a miniature palace was constructed for him to the design of architect A.Rinaldi. Later A.Rinaldi was commissioned by the empress Catherine the Great to erect the Chinese palace and the Katalnaya Gorka (Sliding Hill) with a pavilion. The architectural style of these historical monuments is distinguished by the subtle blend of elegant rococo style with traces of classicism. Oranienbaum is famous for its landscape parks dating back to the middle XIX century. The following palace-museums are open for the public at the present time: the Chinese palace, the palace of Peter III, the Katalnaya Gorka Pavilion, the Japanese pavilion of the Bolshoy (Menshikovsky) Palace, Exhibition halls in Cavaleriysky building and Chinese cuisine Pavilion, an exhibition in the central building of the Bolshoy (Menshikovsky) Palace.
for museum professionals


Administrative phone:
Fax: (812) 422-8016



Organization form:
non-for-profit

Organisation type:
culture for society

Classification:
Architect and monuments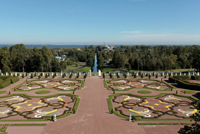 Squares:
permament show rooms 1549м2

Collections volume:
5539



Web sites and CD-disks:
above

Copyright (c) 1996-2006 The State Museum and Reserve "Oranienbaum"
Copyright (c) 1996-2017 Russian Museums .info