House-Museum "Suhe-Bator Secret Address"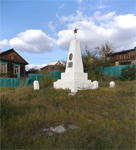 Phone: (30142) 91-235

Address: 671830, Buriat Republic, 2, Gornozerentuyskaya str., Kyachta

Working hours:*

Internet:
www.russianmuseums.info/M1196 - official web page
Kyakhta museum of local lore of academician V.A. Obruchev - W768, official web site музейкяхта.рф



E-Mail:




billboard, events and excursions

for museum professionals


Administrative phone:
(30142) 92-333, Fax: (30142) 91-194

Administrative address:
49, Lenina str., Kyachta

Foundation and opening day:
founded: 1958г.

Organisation status:
State Russia

Organization form:
non-for-profit

Organisation type:
culture for society, scientific

Classification:
Historical,Regional museum,Memorial

Squares:
permament show rooms 32м2
museum's parks 0,3га

Employee number:
2 (curators: 1)



Web sites and CD-disks:
above

Copyright (c) 1996-2018 House-Museum "Suhe-Bator Secret Address"
Copyright (c) 1996-2018 Russian Museums .info